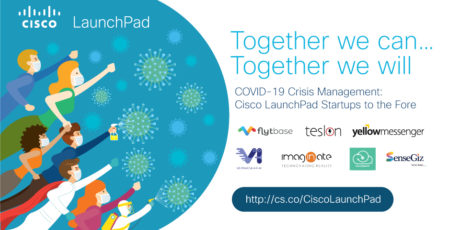 Digital Transformation
Cisco LaunchPad Startups in Action Flattening the Curve with Robust and Scalable Solutions
"We must embrace pain and burn it as fuel for our journey" – Kenji Miyazawa
And this is a pain of seeing mankind struggling for its existence, accepting social distancing to be the new normal and above all, fighting for a common cause – to survive, to reclaim our place where we actually belong!
No one could have predicted it this way, no one could have ever imagined it will come this far, but yes, everyone has been touched by it. The COVID-19 pandemic has impacted lives and businesses of millions across continents and industries. With new news and developments doing the rounds, things are getting really complex and challenging. But amidst all these and with more to unfurl, we are all together at this hour like we had always been before.
Cisco LaunchPad have always believed in the true potential of startups and have had the privilege to work with some of the most exciting entities over the years. As the world is now battling out the deadly virus, some of our startups have risen to the occasion and come up with innovative/cutting-edge solutions that are helping in big ways to industries and authorities alike. Below are some of our esteemed startups who are doing their best in flattening the curve with their robust, scalable and highly efficient solutions.
Flytbase: Enables contactless operations using drones thanks to Flytnow cloud-based drone video streaming and fleet management solution. Thermal scan, lockdown patrol, medical goods delivery, emergency response, blood sample delivery, aerial disinfection – Flytbase is helping authorities take necessary steps in all these crucial areas in India as well as globally.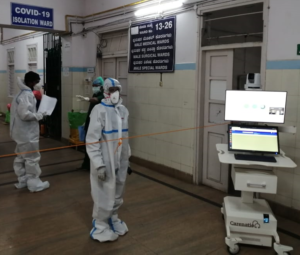 Teslon: Teslon's Carenation helps increase speed of care delivery by augmenting every facet of Screening, Isolation & Remote Monitoring. Cisco Collaboration-based E-ICU from Teslon allows doctors to monitor, consult and advise patients remotely. Carenation Cart and Backpack, Carenation Health App, Patient App and a centralized monitoring and management solution have proven to be a boon for mankind at this critical and challenging time.

Yellow Messenger: With limited available resources, call enter and customer support engagements are now finding it difficult to answer huge surge of customer inquiries. Thanks to Yellow Messenger for developing a Chatbot on Whatsapp that helps enterprises stay in touch with customers. It now also offers a free business account on WhatsApp & web-widget.

Vernacular: Vernacular's VIVA – multilingual voice AI platform helps automate contact center operations thus boosting customer engagement and experience. It leverages the infinite efficiency of conversational AI and ensures that business operations stay stable, up and running across industries – despite all challenges.

Imaginate: Collaborate in AR/VR anytime, from anywhere, using any device. Imaginate's NuSpace enables you to fully tap the potential of Augmented, Virtual and Mixed Reality to enhance process efficiencies and workforce productivity. In the current situation, manufacturing companies can train their employees virtually using Imaginate's VR/AR technology suite. It also makes remote troubleshooting for high-end machinery a breeze.

Cloudphysician: With healthcare system hard hit by increasing number of COVID-19 cases, Cloudphysician is helping an intensivist cater to the needs of 60 – 80 sick patients in multiple locations – thanks to its proprietary platform RADAR that connects command centers with hospital ICUs remotely. Healthcare staff at the bedside can also use RADAR's monitoring technology to reduce utilization of personal protective equipment, which is in scarce supply.

SenseGiz: Helps accurately track patients/people within a COVID-19 quarantine zone, thus allowing healthcare professionals take necessary actions on time, in an effective way. With its COIN device, SenseGiz creates a large, ultra-low power proprietary mesh network of sensor nodes with connectivity to the cloud via Wi-Fi. Each person to be tracked, is tagged with a FIND device comprising all necessary information like name, age etc. Geofencing capabilities help in prompting alerts in case people enter or leave restricted area.

With more startups from Cisco LaunchPad stable putting their best effort to help fight against this biggest threat of the century, we are confident of coming up with more relevant solutions soon. Despite the industries' divided outlook on the market, we consider this time to be an opportunity for us and our league of exemplary startups find, create and develop solutions that will inspire the generations to come. This is a really a tough time and we will sail through it … just to be back stronger than ever! Until then, stay safe, keep healthy and look up to the future which will be bright and beautiful again!

Tags: