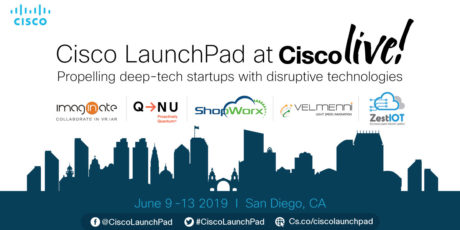 Digital Transformation
Cisco LaunchPad and startups – growing leaps and bounds
Cisco LaunchPad has always treated its startups like its children and with a wide range of expertise across the globe right around its fingertips, Cisco LaunchPad has become an exclusive, one of a kind initiative focused on providing tech startups with specific and critical connects to drive their journey beyond acceleration towards growth and expansion. With an oath to uplift the startup ecosystem of India, Cisco LaunchPad has till date, nurtured a pool of 41 startups across 5 cohorts and has helped them to embark on a transformational journey where they always find themselves at the bull's eye of everything to make their digitization more strategic and their operations more time sensitive.
With the assistance of our expert pool and contacts, we have continually provided our portfolio startups with opportunities to showcase their products, acquire knowledge, obtain hands on mentorship by subject matter experts globally, and platforms to showcase and share their stories.
With that in mind, let's delve into some of our startups that are performing amazingly in their verticals through the help of our technical and business mentorship along with ecosystem connects.
Entrib is now digitizing the manufacturing Industry 4.0 with its novel IoT product ShopWorx. ShopWorx, running on Intel® architecture-based gateways, is delivering holistic data analysis, shop floor monitoring, and real-time reporting to manufacturers. They have reported a revenue growth of 300% in the past 3 years with more than 20 customers on board.
Imaginate is now generating new age collaborative VR and AR solutions for fortune 500 companies. Through their product NuSpace, now peers across the globe can conduct meetings in their own 3D space and with a funding of $500K from SRI Capital, Imaginate is now set towards its journey to success.
QuNu labs has already geared up to prepare for data security for the quantum computing era since complex mathematical encryption functions can easily be solved by the computers of the future. They are currently working on Quantum Key Distribution (QKD), a technology with which encryption keys can be exchanged securely over networks through quantum computers.
ZestIot is using IoT & AI enabled aviation platform to integrate Passenger, Baggage, Aircraft, and Ground & Airport operations. They also won the merit prize of Rolls Royce Data Innovation Challenge, Asia for using engine data from Rolls Royce and adding their own product data to demonstrate situational-awareness-based recommendation model for faster decision making and time saving to ensure that a flight departs on time.
Velmenni is now tackling the problem of internet connectivity by LiFi through which we can use the internet with visible light. With their technology, soon we will be able to ditch radio frequencies used in WiFi in areas of heavy user congestion, and prohibition, like in the cases of aviation, medical healthcare and chemical industries.
The growth of these startups are only a few out of the many testimonies that we have created over 5 Cohorts and just like them, every new technology crossing paths with us is crucial and we at Cisco, can help to make it impactful in all possible domains of application. Therefore, we are always willing to do more and hence are creating opportunities for these cutting-edge deep tech startups like never before at Cisco Live US 2019. The showcase of Velmenni, ZestIot, Qunu Labs, Imaginate and Entrib at the World of Solutions will help up-level customer engagements, pull together the power of our portfolio, and arm our startups with a roadmap to success.

If you are a startup mentor, partner, investor or startup ecosystem enthusiast, do visit to know more and get involved click here

Tags: