Uncategorized
When pushed against the wall, break the wall
"Life doesn't get easier or more forgiving, we get stronger and more resilient."- Steve Maraboli
Here is a story of how a team achieved great success at a time when it seemed impossible. A team built on faith and leadership and above all teamwork – that became the bridge to that success.
The commercial team had been on a roll for the last five years recording double-digit growth year after year. All was going as per plan. But in a dynamic business environment there are times when the best laid plans can go awry when factors beyond your control impact the outcome.
In our business where most of divisions were doing well, one section began to show degrowth and threatened to impact our overall achievement. We were down to the last two quarters of the year and the future seemed bleak. Would be able to make our numbers?
The team showed incredible reliance to come together and in the last quarter. We really hit the ball out of the park. Here are the winning mantras of this incredible team
Moving out of our comfort zone
 Our strategy had to evolve with the situation at hand. We relooked at our strategy and fine-tuned the approach to get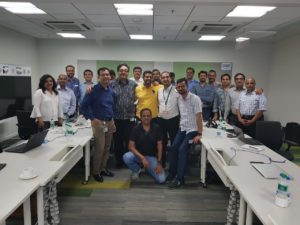 to the goal. During the initial days of the quarter, we decided to relook our business. We had a large addressable market but low penetration in
Collaboration and Data Center. In the past we had resigned to the fact we will be able to increase our penetration. We the
n decided to move out of our comfort zone, take competition head-on and came up with an aggressive penetration improvement plan. We needed extra investment and with some efforts we were able to self-fund it by adjusting our P&L. We now had a clear get-well plan, clear owners and defined outcomes.
We socialised the new strategy approach with the team and of course, our partners. It was now to get into action!
Accountability drives trust & productivity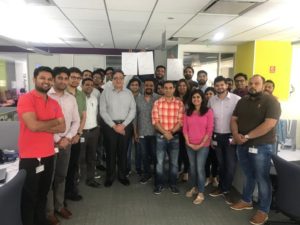 The plan was then converted into daily and weekly actions. The team scaled up their productivity to manage 1.5X transactions in order to achieve the set goal. We also decided to have a completely flat hierarchy for the quarter to fuel this process. In other words, rather than having a cadence of reviews, we consolidated all of them into one call and removed unnecessary hierarchy.
We also made a list of all the accounts that we were chasing and assigned the respective account owner along with one manager from the sales or technical teams. To make this work, we had to establish complete trust and clear accountability between sales and technical teams. This credibility could have vanished into thin air if the first two transactions failed. Hence, we introduced a 'daily mechanism' to share progress and learnings. We used these learnings to optimize and improvise our plan. Once the team witnessed the initial success, it gave everyone a confidence boost and accelerated the entire process.
Inspection vs Motivation
The managers were encouraged to have a base plan to get to their numbers and aspirational plans to overachieve. The aspirational plan was the incremental business they aimed to drive in order to reach a personal and team milestone.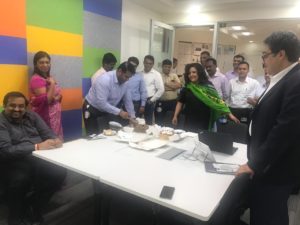 For this to take shape, we followed two different rhythms:
A weekly inspection on how to reach the base plan
Continuous motivation and encouragement to reach individual aspirations.
I believe that a team goal added to one's personal objectives really delivers exponential results. As a result of this we scored a landmark achievement in the history of Cisco.
My job as a leader was to provide clear guidance on what was expected on a daily basis. It was not an easy task. But motivation and encouragement worked. We had to accelerate the pace of business much like chasing the required run-rate in a T20 game. On most days we ran the business at a normal pace, but every month-end we focussed on huge acceleration (these were the sixes!).  The objective was not to let the team get bogged down by huge tasks but break them into smaller achievable goals. As a leader I had to be consistent with this approach and that helped keep everyone on track week on week.
As long as there is consistent communication, solutions will come!
When you are pursuing large audacious goals, it is very important for the team to know where they stand on a daily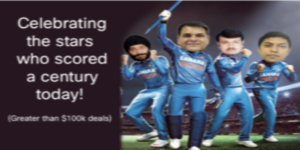 basis. Everyone has to be motivated that even a small order closed by them adds to the overall goal achievement. We started weekly communication with the entire team giving a detailed overview of the business trajectory and what was required by them for the next day. As we got into the last weeks, we increased the communication frequency to daily. Communication was done across different channels – team calls, emails, social media, etc. Communication was the essential thread that bound our trust and accountability eventually leading us to success.
Walking the talk

!
It is often easy for leaders to show the direction and let the troops do the hard work. Of, course, real leadership is leading the troops from the front. All of our initiatives would have failed if we hadn't shown the belief we proposed and led by example. I persuaded all my leaders and managers to come up to join the front lines every day to help the team to close deals. Our job was not one of inspection but to help the team find solutions.
Running fast is great but finishing strong is epic!
Lastly, I want to sum up the importance of the last mile. In the last week of the quarter, we could see at best a 90% possibility of meeting our target.  It was a game of nerves!  At this stage, we had to continue motivating the team to focus on the customer and make the navigation through the internal order processing faster. We set up a small team that focused on all internal approvals. This provided our sales team time to focus on chasing the deals. They not only covered the last 10% but also overachieved by a mile!

What really worked for us was the faith in ourselves, trust in others and that we had each other's backs. I'm proud of my team for pulling through this feat.

I'd like to end with a quote from Helen Keller who once said, "I would rather walk with a friend in the dark, than alone in the light." After all, none of us are as strong as all of us, and a little collaboration can go a long way.

Tags: