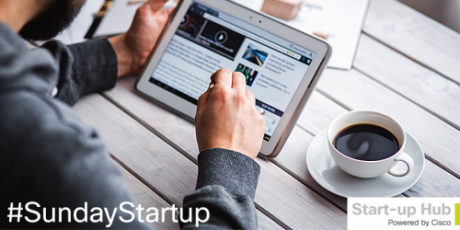 Start-up Hub
#SundayStartup no. 21 – the top five stories for tech start-ups this week
The tussle between London and Berlin continues in this week's #SundayStartup though there's better news for the UK this time around.
Sadiq Khan has been on his travels too, drumming up support for better collaboration between European cities. Whether or not he could have made use of the world's first autonomous suitcase remains to be seen – we can't quite see it taking off (no pun intended).
There's all this and more to get stuck into this Sunday, so what are you waiting for…?
12% of Britons quit jobs to turn "passions into pay cheques"
Technology, retail, blogging and vlogging were found to be among the most popular options for people packing in their day jobs to pursue their own business ideas.
The study, conducted by Samsung in conjunction with CEBR and YouGov, revealed that 32% of those quitting a job to start a new business are motivated by the desire for a change of lifestyle. 14% do so because they want to be their own boss.
Elsewhere the report suggested that people who had opted to found their own business took fewer sick days, were more productive and enjoyed greater job satisfaction.
Start-ups in London raised more funding than in any other European city this year
An EY report has put the capital at the top of the table for investment in Europe, giving Londoners another thing to boast about.
In the first six months of 2016, London start-ups took in €1.3bn in funding (a €300m increase on last year). Second placed Stockholm raised just over €1bn.
Berlin, whose tech hubs have been vying for the attention of the UK's start-ups, meanwhile recorded a dramatic drop. Investment fell by almost two thirds, from €1.5bn last year to just €520m in the first half of 2016.
Sadiq Khan pledges closer joint working between London and Paris
The Mayor of London took a trip to Paris this week, committing to closer collaboration with the city following the UK's decision in June to leave the EU.
He met with leading French businesspeople at Halle Freyssinet – the biggest tech start-up campus in Europe – to discuss how Paris and London can work together in the future on joint innovation opportunities.
Khan also emphasised that he is pushing for greater devolution to allow London to work more closely with other cities in Europe to develop business and skills ties – particularly for growth sectors such as tech.
One of the poorest countries in the EU could be its next tech start-up hub
Quartz turned its eye to Romania – the second fastest growing economy in Europe and home to a bubbling pot of home-grown tech start-ups.
The combination of a wealth of well-educated STEM talent and low operating costs (and wages) has traditionally made the country a favourite location for outsourcing. More recently, though, natives have taken to gripping the reins themselves.
Excellent Internet speeds and a digital infrastructure that ranks as one of the best on the continent have made the country an attractive place for tech entrepreneurs – particularly those Romanians who've grown up with access to these services as the norm.
 And finally…
If you've ever been heading off on your travels, pulling along your little rollaboard and wishing you had an extra arm free then COWAROBOT R1 could be just the thing for you.
Provided you're OK with the idea of being followed around by something that will no doubt crop up as a Doctor Who villain at some point in the future, that is.
The wheely contraption is described as the first autonomous suitcase and can be summoned with a couple of taps on the accompanying smart bracelet worn by the user – making it more reliable than most human companions.
Make sure you join us at the same time next week for another round of #SundayStartup. Until next time!

Tags: