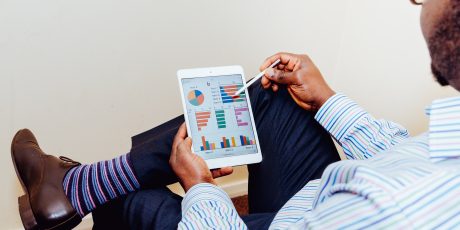 Start-up Hub
Start-up Hub Problem Page: Marketing on a start-up budget
Tech start-ups face a unique challenge when it comes to marketing their business.
They not only have to develop a product that customers want to pay for, but they also need to cultivate their market of potential customers – in most cases with limited human and financial resources.
There's also the question of how best to explain what might be a complex piece of technology in a simple way. In creating their 'marketing story', tech start-ups face the challenge of making it easy to understand the benefits of their product or solution without dumbing it down.
One of our IDEALondon alumni, SPARKL, has adopted a 'show and tell' approach to this particular problem – showcasing what the tech can do for a customer, rather than bamboozling them with the minutiae of how it works.
But as with most things in marketing (and tech!), there's value in experimentation.
With all of this in mind, we got in touch with Alasdair Inglis, MD of Grow, a London based marketing consultancy, to find out some of his top tips for marketing your start-up.
We also spoke with some of our resident start-ups on a recent visit to IDEALondon, whose experiences you can hear about in the video below:
—
A lady who runs a successful start-up tech accelerator in London regularly asks all her programme members: "have you spoken to your 10 bald men yet?"

She's right. They won't necessarily be men (or bald) but you really have to get out of the building and talk to 10 people who have the relevant industry experience and can give you feedback on your offering.

With most businesses I've worked with, they eventually find their marketing goldmine, which is typically a mix of one or two marketing methods that bring in regular quality customers consistently and long term.

However, to find that elusive marketing goldmine often requires small scale testing of anywhere from 5-10 different marketing strategies. In reality, every tech start up is different and will require a unique strategy to get results.

Defining who your ideal customer is and how they might be marketed to should start before you've even built your first prototype.

If you build your world changing tech start up around your ideal customers from the beginning you are much more likely to succeed.

To do this, tech start-ups must find out where their potential customers 'hang out.'

If you already know who your customers are, one way to chase them down is to use outbound forms of marketing such as email marketing and LinkedIn.

You can search for and approach people on LinkedIn and ask for their feedback on your product. They won't always all get back to you, but if they respond positively and give you helpful feedback you can also ask them to refer you to people they know.

There's a chance that people are looking for you too, but that they just don't know it yet.

In reality your potential customers are likely already looking online to solve a problem that your product fixes. You can then target them with an inbound marketing approach by blogging on your own site, guest blogging, or test Google pay per click advertising,

For tech start-ups it's crucial to understand how to do keyword research so you can quickly assess whether customers are already searching for what you sell online.

If potential customers are already searching for your product or service online, creating good quality blog content around one keyword phrase per blog is a great strategy. It can generate worldwide traffic for your blogs and is the cornerstone of a content driven strategy that can help position a tech start-up as a thought leader in their field.

If blogging in this way works, consider testing Google pay per click advertising too. When people type specific search terms into Google, you can ensure that an advert for you product shows up.

If you are a long way from getting your product built and perfected, search for people who understand your potential customers and can give you instant feedback to help you hone your offering.

If you know your audience, then there will be specific blogs, forums or Facebook groups you can use to easily reach and interact with these people.

There are a number of ways to do this. It could be running Facebook adverts and targeting people based on their job descriptions, location and interests, or you can share blog posts on specialist forums or Facebook groups that are full of passionate people with interests relevant to what you sell.

You can also offer to guest blog on specific websites that are related to what you sell, which can give you an instant audience in front of your ideal customers.

Importantly, these are all relatively inexpensive methods that can be executed effectively on a small scale.
—
What's most obvious here, as with most of the problems we tackle on our Problem Pages, is that there is rarely a one-size-fits-all solution to any issue. Marketing can often be something of an inexact science, so being willing to experiment in order to find out what works for you and what doesn't is important.
But don't get too bogged down in it: after all, it's the product or service that you're offering as a start-up that's most important – if it wasn't for that, then you wouldn't be thinking about how to market it in the first place!
Alasdair Inglis is the founder and MD of Grow, a successful marketing consultancy for small businesses. As well as being the British Library Marketing Expert in Residence, Alasdair teaches marketing workshops to entrepreneurs at The British Library Business & IP Centre and at The Social School of Entrepreneurs in London which hothouses the UK's fastest growing social entrepreneurs. Previously, Alasdair has delivered masterclasses on The Goldman Sachs 10,000 small business programme, the world's top small business programme.
The Start-up Hub is here to help. Got a problem? Let us know and we'll aim to tackle it in a future Problem Page – with the help of some experts, of course.
 If there's a topic area you'd like us to cover in more detail, or if you have a question you'd like to ask, please let us know in the comments below or drop us a line at startupsupport@external.cisco.com.
Do you know someone who would benefit from this content? Feel free to share with your social networks and help us spread the word.

Tags: