Cisco UKI
All aboard for Stations-as-a-Service
We are on the verge of a travel revolution as innovation is set to completely transform how we interact with train stations.
Cisco CREATE, our innovation laboratory in East London, has been proof of concept testing Stations-as-a-Service (StaaS), with a lab demo of the solution now live and plans to test this in 2 station environments in the Autumn of this year.
The two-year project is being co-funded by Innovate UK and Railway Safety & Standards Board (RSSB), to see if there is a viable commercial and technical model for how this futuristic vision of the railway station will be achieved.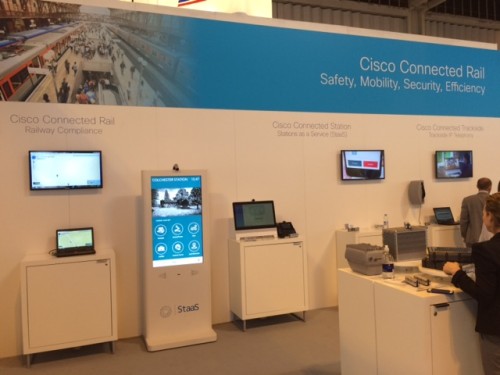 First off, think about all the systems in stations right now – everything from the ticket barriers, the timetable, the security, and even the tills in the shops.
That is a lot of different computer systems that are currently not talking to each other, and we believe connecting these systems with people and processes could enhance the experience for every individual and organisation that interacts with stations.
This is a true example of the Internet of Everything in action. So what will it look like?
Imagine walking to the platform and getting a push notification to your smartphone, telling you your train is running 15 minutes delayed.
As a way of an apology, the train company is offering a complementary hot drink to the passengers it effects. The coffee shops in the station are sent an alert, while the customer gets a voucher on their phone.
The security system will be alerted that a large crowd is potentially heading towards the coffee shop – so staff can be sent there to marshal the route if required.
Behind the scenes, we are looking at the connectivity demands of four groups: security providers, train operators, retailers and passengers.
We believe by drawing all of these threads together under one roof, one system, it will deliver benefits for everyone it touches.
The challenge here is converging various different types of technology into one platform – including building management, Big Data and the Internet of Things.
This is a complex process but it can all be done with existing technology. Our job is to prove that this holistic architecture with centralised management can work.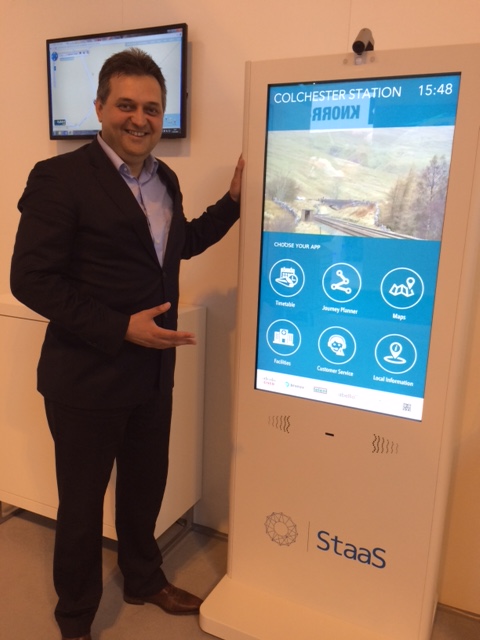 This will enable operators to move from closed systems to a co-operative, shared structure, while also providing a new blueprint for improving customer experience in this sector.
Another big piece of work for project has been a full audit of every single piece of legislation that affects the railway industry. This part might not sound the most exciting, but it's a vitally important consideration with the huge amount of regulation surrounding this industry.
It is our view that StaaS will provide an open, extensible architecture. By doing this, we are hoping it will help unlock future investment and innovation in the UK rail sector. We look forward to sharing more on this project as it develops!
You can find out more about the other innovative work from the team at Cisco CREATE here.
In other news, the same team has just secured £0.7 million in funding to develop an innovative solution for improving flood risk management.
In the UK, 3.2 million people will be at higher risk from flooding by 2050, due to rapid urbanisation and climate change. With £3.1 billion of damage caused in the summer floods of 2007, there is the need for a system to help flood co-ordination in the event of another disaster.
Code-named CONSERVE (or Contingency Operations for Strategic Infrastructure and the Vulnerable), the team estimates it could save as much as £5 billion in in the future.
If this proof of concept is successful in Glasgow, the solution could be expanded across the UK and to other cities around the world, including New York and Rio de Janeiro.
We look forward to hearing just another example of how we invest innovation at Cisco through the CREATE team, to explore and solve societal issues. Sharing more details as they emerge from the lab!