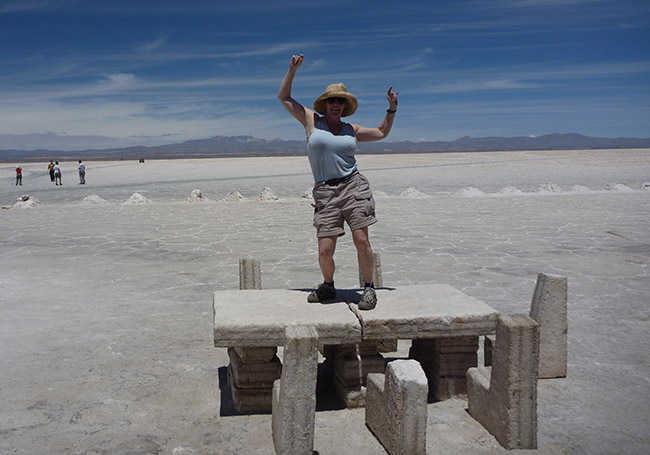 Our People
A life less ordinary: why Sam Moylan-Heydt wants to please all of the people all of the time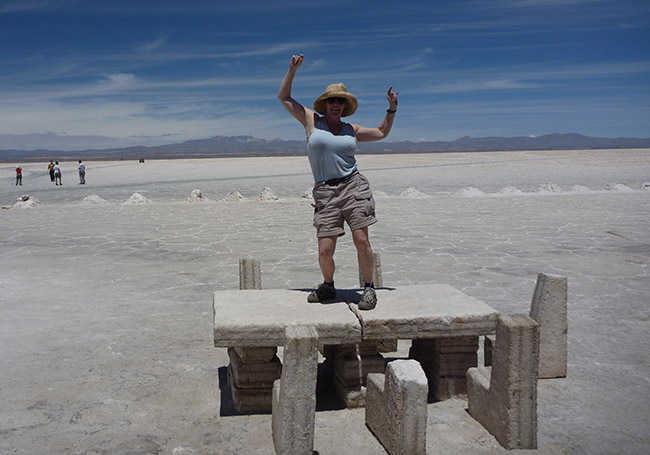 I have a pretty good idea of where my conversation with Sam is going to go within about 20 seconds of meeting her. "You don't mind if I use this, do you?" I ask, gesturing towards the Dictaphone I've laid on a coffee table in blazing Bedfont Lakes sunshine. "No, no, help yourself darling," she replies. "I talk ten to the dozen, very randomly and what I say is usually nonsense."
This is going to be fun.
As CSR Programmes Manager for Cisco UK & Ireland, Moylan-Heydt is tasked with bringing the nationwide Cisco community together through all kinds of initiatives. Right now, she has her nails decked out in the reds, whites and blues of the US flag for Cisco UK & Ireland's first official July 4th celebrations. This time round, they'll take the shape of a lakeside barbecue with an inflatable assault course, jousting pitch and more, something that she's clearly taking great delight in planning. "I've got some SVPs doing the first run on the assault course," she beams.
The day before, she says, she convinced one of them to take part when they discovered they were up against one of the most athletic members of the UK team. "I just told him he was really fit as well, and he quickly came round; completely missed the fact that nothing had really changed."
It's just the kind of verbal sleight of hand that defines our conversation over the next hour; my 60 minutes with Sam is – in the very nicest way – like interviewing a tornado. She jumps effortlessly and breathlessly between subjects, all with a broad grin on her face. At one point, she breaks into the chorus of Jesus Christ Superstar. I wonder if people do what she wants purely by being swept along by her relentlessly positive current, but soon realise that sheer capability and commitment to getting the job done play a sizeable part, too.
It's a reaction that she's clearly had before, and she's acutely aware of how her personality might come across. "I look at other people and think they wonder 'how on earth does she influence the really senior people?' But you know what? I do. I really do! They have no problem doing pretty much anything I ask them to."
How exactly does that work, I wonder? "Some people describe me as bossy, like it's a bad thing. I think it's become quite a derogatory term, 'bossy', especially when it's thrown at women. Well I discovered at uni that being bossy can actually be quite useful for certain things. So you know what? I am bossy. And I get stuff done."

"But it's not just that," she explains. "It's a mixture of hard-work, delivery and showing that I can do the job. And if I don't know how to do it, I'll learn. It's pure energy, mixed with a bit of the never say die." Indeed, I can't help but think that it's precisely this combination of tenacity and achieving results that makes people give Sam the room to let her personality shine through. Joining Cisco at the end of 2010, Sam came fresh from a six months spent travelling around South America.
Her trip was a reaction to being laid off by BP after 12 years as the petroleum giant made sweeping cuts to its Alternative Energy programme. "I wasn't really sure how I felt about it until I got told that I got a year's wages as a payoff," she laughs. "Then I just went merrily on my way, spent six months in South America, learned Spanish and spent another six months looking for a job. Lots of the jobs I went for I did just because I felt like I should be getting a job, and didn't really kind of fit with me. Then I saw this one."
Despite being certain Cisco was for her, she wasn't overwhelmingly positive about her chances. "I thought 'oh I know what happens when I really, really want something – I never bloody get it'." But she did. She really, really did. "I'm full of nervous energy anyway, so I came along full of excitement and just threw myself into the process. It obviously worked."

What was it about Cisco that appealed, then? She confesses that it wasn't exactly a lifelong passion for networking or routers. "The stuff I do, and what I'm passionate about, is people. Anything I can do in whatever my role is that makes people's lives easier or more enjoyable, that's where I come from. I was certain there'd be a big chance to do that here."
It was Cisco's participation in London 2012 as a sponsor that was the draw, she says. "I'd desperately wanted to get on BP's Olympics team, but didn't get the chance because of the redundancy. So when the London 2012 Internal Communications Manager job with Cisco came up I knew I had an opportunity I didn't want to miss out on." And, like most things she puts her mind to, this mission turned out to be a successful one, with Sam pocketing the coveted role.
Did she enjoy it as much as she thought she would, I ask? "It was incredible. Just that energy you get from everyone coming together. We'd be up at Cisco House or something, and the moment you walked in there, you felt that you were part of something bigger." She describes the party to celebrate the opening night of the Games, as seen from Cisco's balcony overlooking the Olympic Park. "You've got the planes flying over, fireworks going off, everyone having a good time. It was just one of those 'wow' moments. I was so proud to be part of it."
I flick back to her earlier point, about wanting to make working life better. "Absolutely," she continues. "We spend a lot of time at work, and what I care about is how we can make it more fun," she elaborates. "Why would you want to come to a job every day that wasn't fun? You get more out of people if they actually want to be here."
It sounds like a great attitude to have. Where did it originate? "Do you know what, when I was young I was a total outsider at everything. I was reasonably smart – not that I wanted to be – and I spent a lot of time trying to fit in. I wanted desperately to be included, to be the cool kid, to join a band.
I never was and I never did." "I just wasn't that person," she continues. "But that made me very sensitive to including people. My parents would take me to something like the Cambridge Folk Festival, and I'd see someone sitting on their own, and I just couldn't stand it. I'd go and make sure that person feels okay and that they feel included. To this day, I'll flock to someone standing on their own and make sure they're part of what we're doing."
That desire to bring everyone into the fold shaped Sam's career. After a stellar stint leading the London 2012 Olympics internal communications program, she found herself as the company's UK & Ireland Communications Manager, before moving into her current role last November.
It's not all work though – at Cisco, she's even found a way to incorporate the business' own technology into proceedings – using a combination of TelePresence and other tech to help facilitate a UK and Ireland Pub Quiz. She describes it as a way to create community and bring everyone together, no matter where they are. Using a video wall, several monitors and TelePresence, Sam broadcasts the Pub Quiz to Cisco offices across the land.

Naturally, she takes (and loves playing) the role of Ali Murray, pub landlady and, despite the multiple logistical challenges involved in pulling together such a complex event, confesses that the hardest challenge is "not swearing for two hours". "My language is appalling," she says, revealing something I've already discovered about 20 minutes previously.
In her early 20s, Moylan-Heydt did what many do and went travelling. "I was just bumming around on beaches. Spent quite a lot of time in Greece, took a boat over to Israel, went to Dahab in Egypt. I could have stayed there for a long time to be honest, but I woke up one day realised that it was costing me my health. I couldn't do it anymore."
That reality check eventually brought Moylan-Heydt home. After a brief spell in hospital, she found herself at a complete loose end. "I'd come back, had no shoes and pretty much no clothes." Naturally, she decided to find a way to pay for some new ones. Various jobs saw her working as a kiss-o-gram ("it was hideous, but I came home with some money in my pocket") and as a gameshow hostess in gay bars. It's a career she describes as "about as untypical as you can get", and I'm inclined to agree.
Eventually, she found herself working the customer complaints line for BP. "I used to sit there all day every day with people shouting at me. 'I've spilt oil on my trousers, they were Armani' they'd complain. 'No they weren't, mate' would be my reply." Hugely outgoing, naturally vivacious and about as far from a 'yes person' as you can get, I wonder why she didn't pursue a job in TV.
It quickly transpires that she did. "I did a Media & Performance degree," she explains, "and at the end of it I did a couple of presenting jobs. One of them was for this programme called Club Vegetarian or something, and it was with Michaela Strachan. She did the indoor stuff and I'd go to different places and do the outdoor stuff." "At the end of the day, though, I looked back at the footage and thought 'I can't do that'. I just didn't think I was good enough. So when they asked me to do it again, I just told them that it wasn't right for me."
A glittering TV career might not have panned out, but that's not to say that Sam doesn't still tread the boards. I've barely finished asking how she spends her free time before she's shouted "drama" at me. "AmDram!" she gleefully expands. "And I've just reached the age where I can play some of the older parts. I've spent the past 20 years playing showgirls, and I've been too old to play them for at least the last 10."
She quickly flits between accents; cockney for an upcoming performance of Oliver, before switching to southern American drawl to showcase her role in Oklahoma! We end up discussing her toughest role – Mona in The Best Little Whorehouse in Texas – played by Dolly Parton in the movie. "It was hard, but I like a challenge. I tend to lose interest if something's too easy."
I ask her if that applies to travel, too. Having trekked South America, is off the beaten track better? "It's all about the experience," she replies. "People ask that question 'do you live to work or work to live?'. Well, I work to go on holiday."
She already seems to have been to most places that you could easily pick out in an atlas, so I ask her where's next. "I haven't got it planned yet," she says with a glimmer of excitement in her eyes. "I'm 50 next year, so I know that I want to do something big for that. I pretty much know that I want to do some sort of fire and ice cruise that goes to Hawaii, then you take a train up through the US, and then you go up to Alaska to see some of the beautiful stuff up there."
"I'll sit there looking at the scenery, and they can just bring me gin and tonics," she continues. "I quite fancy the idea of that." Who wouldn't? Travel's not just about the luxury cruises and G&Ts, though.
More than anything, Sam seems to revel in the sense of freedom that it brings. "I grew up quite poor, so when I see these things I just go for them now. Sometimes I have to remind myself that I'm actually in a position where I can afford to go to some of these places and just enjoy it."

Wanderlust, it seems, runs in the family – one side of it, at least. Sam talks about her mum – now in her 70s – and how she's constantly on a jaunt somewhere in the world. "Mum has friends everywhere", she says, reeling off Japan, America and Australia just for starters. "It wasn't the same with my dad," she continues. "Mum had to drag him away just to get him to go." More often, those travels are becoming shared experiences. "You know what it's like when you get older," she says. "You get so involved in your own life that you don't have time for people. So I try and make a special point of spending a few days together, to go see stuff and experience it together."

'Experiencing it together' seems to be a fitting sentiment to end on for someone who's made it their mission to bring people from all walks of life together to have fun. So I thank Sam for her time and let her get back to her day. And like that, she's gone – speeding away to put the finishing touches to a July 4th celebration that promises to be just as bright, bold and successful as the woman herself.

All, of course, in the best possible way.

You can follow on Twitter: @Samoylan

Tags: